24 Aug 2022
The Publishing Show announced as media partner for The Future of Media Technology conference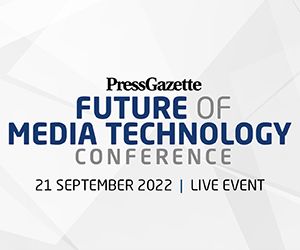 The Publishing Show is pleased to be a media partner for The Future of Media Technology conference - a Press Gazette event.
This new conference aims to give media industry decision-makers a one-day masterclass on the strategies, solutions and ideas to thrive in the digital era. The conference will be held on Wednesday 21 September at 9am at The Waldorf Hilton, London. The event comprises a series of roundtables, panel presentations and key-note speeches from leading figures in media. Tickets include access to the networking lunch, evening drinks and entrance to the Future of Media Awards after the conference.
Speaking about the event launch, Dominic Ponsford, Press Gazette editor in chief, said "The is an exclusive event where news industry leaders can gather to discuss the key challenges we all face if quality content is to thrive in the digital age. All the sessions are designed to arm delegates with the insight they need to grow revenue and therefore protect and invest in journalism."
Visit the conference homepage to learn more.