17 Mar 2023
Can publishing be a positive force for people and the planet?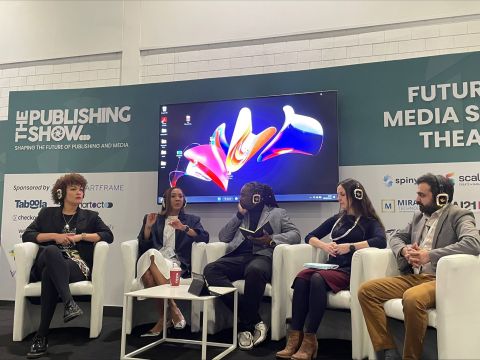 From recruiting and nurturing a diverse workforce to minimising environmental impact, there are many areas where publishing must improve its relationship with people and the planet. The Publishing Show 2023 united many brilliant figures who are committed to a fair and sustainable industry, and we've gathered some of their insights and advice below.
How publishers can break down barriers to diversity and equity
"Equity is about ensuring everyone has what they need to be successful," said Joanna Abeyie, Founder of Blue Moon and Head of Creative Diversity at the BBC. She explained that, while attempts to level the playing field can be unfairly misrepresented as giving preferential treatment, the point is to identify barriers that are unique to particular groups and then work to remove them.
One such barrier is the requirement to have qualifications — often from expensive or inaccessible institutions — for entry level roles in journalism. Abeyie shared a way to overcome this through a process called unique recruitment, where candidates are placed in the newsroom where they could display their real-world skills.
"There wasn't a qualification for journalism to begin with; we made it academic and made it so you need qualifications," said Abeyie. "Actually, all you need is, if someone goes into the newsroom, can they spot a story, know the legalities, and write competently?"
Even with qualifications, underrepresented people can struggle to get their foot in the door because they don't know how to play the hiring "game" hidden beyond standard recruitment channels. Shelly Bishton, Head of Creative Diversity at News UK, highlighted the advantages of knowing who to email at a publication, what to say in that email, and how often to follow up — not to mention leveraging personal connections.
To help skilled candidates excluded by this system get their first step on the ladder, Bishton introduced a partly government-funded scheme to News UK, where the company went direct to job centres and organised the travel and accommodation for applicants. By reaching out and removing these equity barriers, News UK opened the door to talent that would never be found if they had to figure out and fund the hiring process on their own.
Natasha Hirst, Vice President of the National Union of Journalists, recommended that outreach to underrepresented people needs to begin long before the hiring stage. Companies should be directly engaging with schools and universities to help young people aspire to careers in publishing and journalism, especially institutions such as Brixton Finishing School that are specifically set up to break down barriers for underrepresented groups.
"If you can tell a good story, there is a career for you," said Hirst.
Amer Safir, Editor in Chief of The Review of Religions, added an international perspective to the topic of outreach and representation. His publication has heavily invested in French-speaking African countries, which has led to partnerships with national media to offer training and programming to the local TV industry. By putting local talent on their own two feet, The Review of Religions now has content flowing back from the region.
"Monetarily, it's not the most profitable," said Safir, "but the engagement is second to none and we're proud we've reached out."
"Not a 'nice to have' anymore" — why every publisher needs a sustainability roadmap
Tarun Naipaul, Head of Investment at The Stylist Group and DC Thomson, believes publishers have a unique opportunity to push the sustainability agenda on their platforms by engaging with audiences through editorial content and brand partnerships. For example, the Stylist Live festival partnered with Sowvital — an eco-friendly fertiliser brand — to plant a tree for each award winner at the event, raising awareness and creating a "halo effect" for the respective brands in an engaging and playful way.
In addition to the ethical impetus to prioritise sustainability, Naipaul noted the growing commercial imperative: "It's becoming increasingly clear that you can't work with ad agencies without some kind of ESG compliance… individual brands have an authentic stance around ESG and what they're doing to help people. It's not a 'nice-to-have' anymore."
"We have clients where just to get on the pitch list you need to have an ESG policy, then your sustainability credentials will be part of the scoring process," said Dave Barnett, Co-Founder of media planning and buying agency december19. Barnett has found that these demands are coming from clients across all industries, not just the ones that might be expected to prioritise carbon neutrality.
The pressure to change is being driven internally as much as it is externally. Sustainability is high on the list of demands amongst new hires and current staff alike at december19, which has achieved B-Corp certification. Barnett credits their B-Corp status to buy-in across the company: "I drove it, but a lot of the process was done by the team, who managed to work it into their days with no complaints. It was something they were really passionate about."
Ian Jones, Lead GHG Verifier at Newgate Trading, warned that companies are going to pay for their carbon emissions sooner or later, whether through lost business or, in the longer term, lost tax incentives or even fines. He pointed to the crackdown on the "wild west" of carbon credits and the EU's upcoming fines on greenwashing — which the UK is likely to follow suit on — as signs of where legislation is heading.
But Jones added that while emissions audits can be expensive, costs can be offset by trading unused assets and services — for publishers, this might be advertising space — and there can be significant savings from pursuing carbon neutrality. As an example, he noted that The Publishing Show did not carpet over the event space, which simultaneously cut unnecessary emissions and unnecessary costs.