03 Aug 2022
5 tips for building an effective membership proposition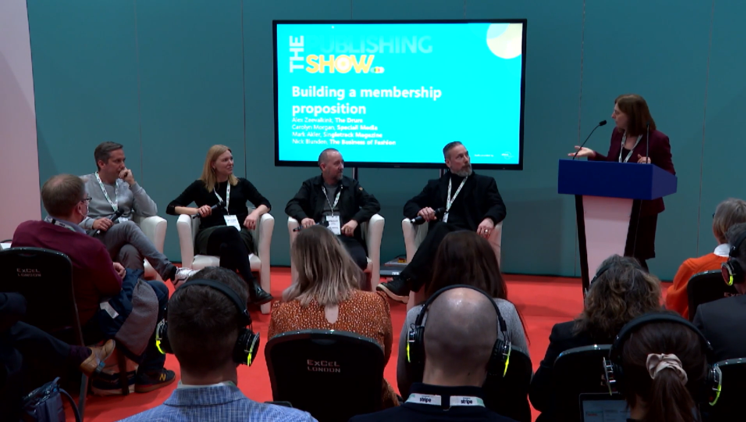 In a panel discussion hosted by Carolyn Morgan, Speciall Media, at The Publishing Show 2022, Alex Zeevalkink, The Drum, Mark Akler, Singletrack Magazine, Nick Blunden, The Business of Fashion, and Stephane Pere, Poool, discussed the key elements of a membership proposition.
Firstly, it is important to consider the difference between a membership and a subscription. A subscription is transactional, it includes a person paying for a product or service. On the other hand, a membership fosters a sense of community where people feel a connection and a sense of belonging; they typically feel a higher sense of status as a result.
What constitutes a membership varies between organisations, typically, a membership offers information, sources of education and events (virtual or physical) which may be hosted by a speaker or networking focused.
Based on the session at TPS 2022, here are the 5 top tips from leaders in the media industry on building an effective membership solution.
1. Choice
Consider how your membership will be structured. How many types of membership will be available? Mark Akler explained how their team reduced the number of membership options from five to two as they found too much choice was off-putting. It is also important to consider whether anyone can be part of the same community. You may prefer to group members, for example, by job seniority, where C-suite level individuals have a different tier of membership.
2. Start with why
Before considering a membership proposition, you need to consider why you are looking to start a membership in the first place. Why would a potential member want to join and what value can you provide them? Secondly, why does membership matter to your business? Consider how you want a membership offering to help you build engagement and retention.
3. Data is key
Analysing your member data should be a regular, if not daily, activity. Understanding your data will help you understand what members are engaging with so you can know what areas to focus on.
4. Know your audience
In order to know what your members want, you have to put yourself in their shoes. What matters to members may not seem obvious to you. Use data to inform but talk to your members to understand the reasons behind the data, such as in focus groups. You must know your audience and be fully invested in their needs.
5. Adapt
A membership proposition does not have to be static; it should grow and evolve. What worked previously may not work now. Adapt your membership model to meet the changing needs of members.
'Building a membership proposition' is available to watch on-demand. Watch now